Published on September 25, 2018
Last updated on March 9, 2023 1:50 pm
Reader Mode
There's no debate on whether LED lighting is an energy-efficient alternative to fluorescent lighting. As the Department of Energy puts it:
Still, outside of the energy efficiency discussion, are there other areas where fluorescent fixtures beat LED fixtures? And if so, how do you choose the right lighting option for your next commercial design project?
Whether you're upgrading your current office lighting or planning lighting design for a new office building, it's important to consider the advantages and disadvantages of LED lighting for a commercial lighting application. Here are five important points to consider when comparing LED office lighting versus fluorescent lighting.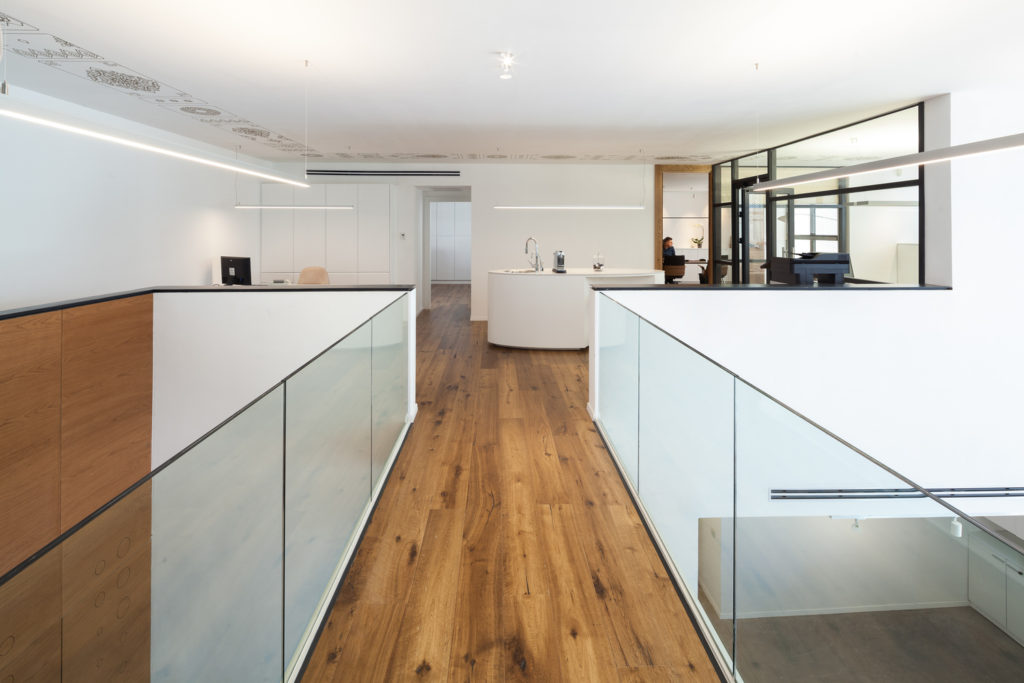 Initial Investment
Depending on the fixture type, whether troffers or architectural linear pendant fixtures, LED fixtures can be slightly more expensive than fluorescent fixtures. However, this is not always the case, and LED fixture prices are rapidly becoming more competitive versus fluorescent alternatives. That's especially true if you need features like dimming and EM (emergency backup).
Tip: Choose one fluorescent lighting fixture and one LED light fixture of a similar design that you like. Then compare features and costs.
Life Span and Warranty
Once you've compared fixture costs, you'll want to compare product life span and fixture warranty claims. These are usually outlined on the product manufacturer's specification sheet for each product.
One of the main benefits of choosing LED lighting, apart from the reduction in energy consumption, is their 10-25 year expected life spans. Most LED manufacturers also provide a 5-10 year fixture warranty that covers replacements for fixtures that die within the warranty period.
By comparison, fluorescent fixtures have much shorter life spans and are rarely covered by warranties.
Fluorescent Ballast and Lamp Replacement Costs
Fluorescent fixtures have two components: a lamp and a ballast, which runs the lamp. Fluorescent lamps cost $5-$15, depending on the lamp type. They also need to be replaced every 6 months to 3 years, depending on their use. Fluorescent ballasts cost between $20-$30 and need to be replaced every 3-6 years depending on use. Also, consider the time and labor involved with replacing fluorescent lamps and ballasts.
LED fixtures require no lamp or ballast replacements. So, while the initial investment may be higher, the lifetime maintenance cost is typically lower with LED office lighting.
Features: Color Rendering and Dimming
The CRI (Color Rendering Index) rating of LED lighting is much higher than fluorescent lights. The higher the CRI of a light source, the more accurate representation of the colors displayed under the light. This is why art galleries prefer LEDs to any other light source.
In addition, LED fixtures dim much smoother than fluorescent fixtures, which tend to flicker. Dimming is generally offered as a standard feature with LED lights. By contrast, dimming may be a premium feature with fluorescent office lights, and often a costly option.
Design Aesthetic
Given that the initial investment of LED lighting may now be generally equal to or less than fluorescent lighting, very few office lighting design projects benefit from fluorescent lighting fixtures from a cost or functionality perspective. That said, certain fluorescent fixture designs can offer a "retro" design aesthetic that some designers are looking for.