Besides the U.S. Federal Energy Regulatory Commission (FERC) and the Department of Energy (DOE), five agencies and officially recognized codes control energy consumption by regulating commercial lighting in the United States:
International Energy Conservation Code (IECC)

The California Building Standards Commission (Title 24)

Vermont Commercial Building Energy Standards (CBES)

New York City Energy Conservation Code (NYCECC)

Washington State Energy Codes (WSEC)

 



In practical terms, the goal is reducing energy consumption and our impact on climate change. The latest global trend is achieving net-zero emissions status—running entirely on renewable energy—with many nations and states outlining their plans and dates for achieving that status.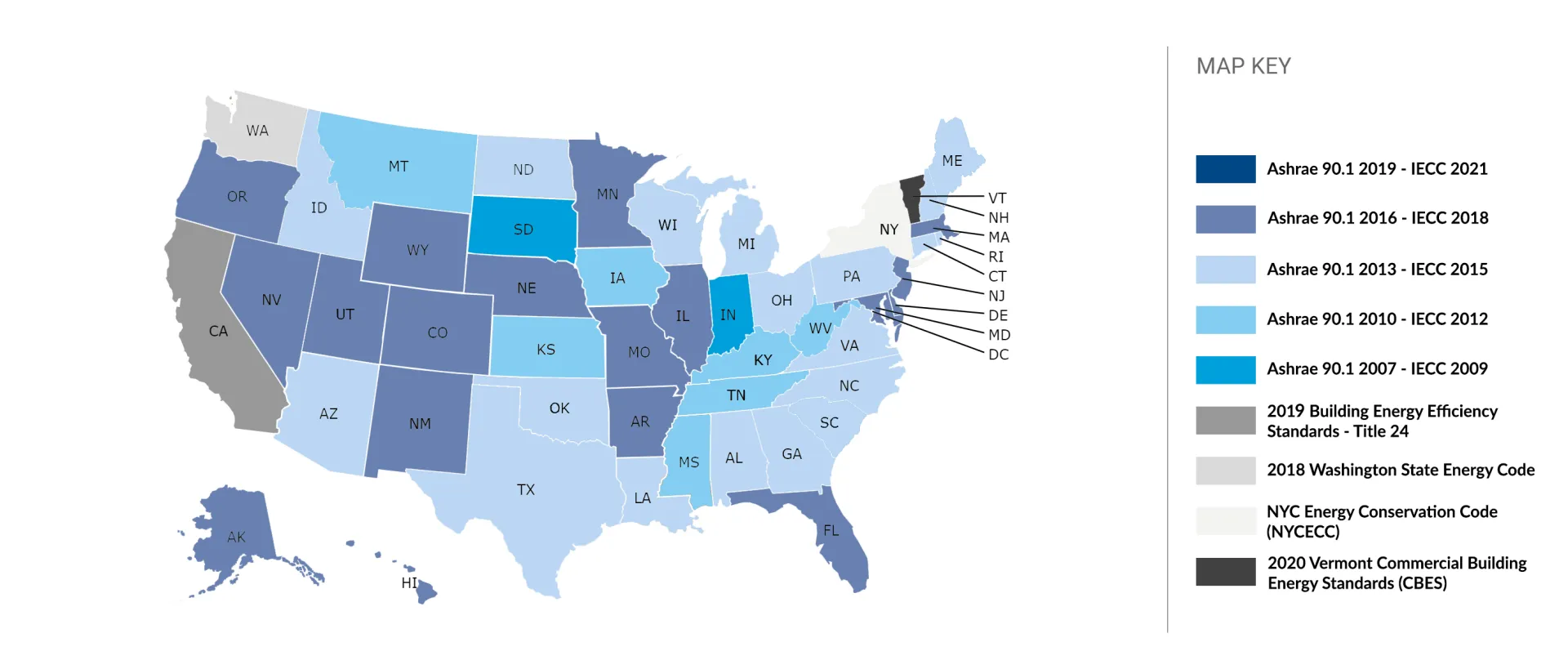 California's Title 24 currently imposes the most stringent set of regulations. States in the Northeast, including Massachusetts, Vermont, Rhode Island and New York, are also heavily demanding, while states such as Georgia, South Carolina, North Carolina, Virginia and Alabama are less restrictive and abide the IECC's 2015 standards. The U.S. Energy Information Administration, tasked with compiling such data, recently published a report detailing renewable energy goals and projections by state. 
The U.S. Department of Energy announced this year that "…beginning in April 2023, all new buildings and major retrofits constructed by the Federal government must comply with the 2021 International Energy Conservation Code (IECC)."
In terms of the user's experience of lighting controls in everyday life, here are some terms that will impact non-residential construction in 2023.
Lighting Power Allowance
The Lighting Power Allowance (LPA) is the maximum allowed watts per square foot. In California's Title 24, the LPA is being reduced from .65 to .6 watts per square foot in 2023.
Open Office Occupancy Controls
Occupant sensor controls in open plan office spaces, cafeteria dining spaces and fast food dining spaces. Controls shall be configured so that general lighting can be controlled in "zones" with floor areas not greater than 600 square feet. General lighting in each controlled zone shall turn off after 20 minutes of occupants leaving a particular zone.
Automatic Daylighting Controls
Automatic daylighting Controls refers to a photosensor and switch or dimming control unit.  The photosensor is mounted to the interior wall, ceiling, or light fixture within the daylighting zone and sends a signal to the control unit when the preset lighting threshold is reached to reduce electrical light levels in a particular zone.11
Daylighting zones include: primary side-lighting, secondary side-lighting and top-lighting. Primary and secondary side-lighting zones are illuminated by windows, while top-lighting zones are illuminated by skylights.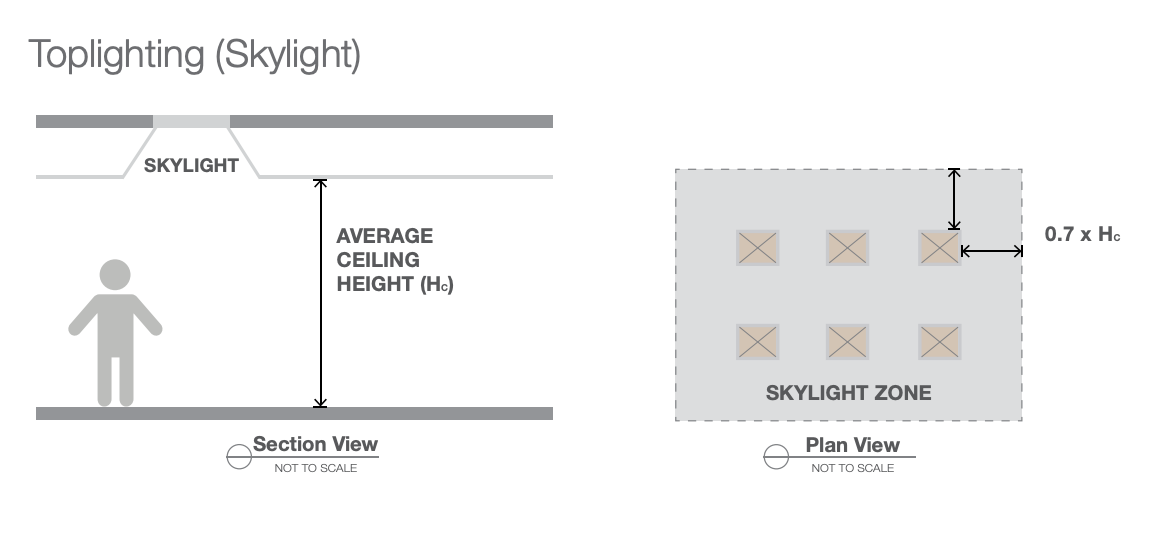 Automatic Receptacle Control
Automatic Receptacle Control, also known as plug-load control, is required to reduce building energy use. The government control limits energy consumption at electrical receptacles during non-occupied times, which reduces what the government deems "unnecessary energy usage and cost and supports sustainability." In addition, some states require these receptacles as part of code requirement.
Receptacle controlling methods include:
Schedule-based or timer-based receptacles that can switch off at programmed times

Occupancy-based sensor which must turn off electrical outlets within 20 minutes of all occupants leaving a space

System-based signal from another control or alarm system which must turn off electrical outlets within 20 minutes after determining that the area is unoccupied.
Demand Responsive Lighting Controls
Demand Responsive Lighting Controls utilize control mechanisms to dim lighting levels during periods of high grid-wide demand, primarily to aid utilities in maintaining grid stability. According to the Demand Responsive Lighting Control Declaration of California's Title 24, (Part 6, Section 110.12(a)1B) "…requires that all demand responsive lighting controls be certified by the manufacturer as being capable of responding to signals from an OpenADR 2.0b Virtual End Node [utilities or state controlled software]."
Comments