Published on November 8, 2023
Last updated on November 10, 2023 8:16 am
Architectural lighting design for healthcare directly impacts the mental state, performance and safety of patients, healthcare workers and communities.
Introduction
Lighting principles in illumination, color rendering, color temperature, design layout and fixture specification provide a basis for the human-centric healthcare environment. Light sources create visually clear, engaging spaces by accurately rendering color. Color Rendering Index (CRI) is the common industry standard for measuring how much a light source is able to render the natural color spectrum of an object; TM-30 is the newer metric providing a fuller representation of color rendering distribution. Correlated Color Temperature (CCT) is the metric that describes the color that is perceived from a light source.
Lighting color temperature ranges from 2000 Kelvin (warm yellow light) to 7000 Kelvin (cool blue light) and is linked to the natural daylight cycles that transition from warm color early in the day, cool color in the middle of the day, and back to warm color at the end of the day. Psychologically, warm color temperature is associated with comfort and cool color temperature is associated with focus. Please note that appropriate light levels for surface illuminance referenced in this article are provided by the Illuminating Engineering Society's (IES) Recommended Practice: Lighting Hospital and Healthcare Facilities and are measured in average minimum footcandles (fc), with relevant information from the handbook cited herewith. Modern artificial lighting solutions primarily use commercial-grade LED technology to specify intended color rendering and color temperature for healthcare lighting success.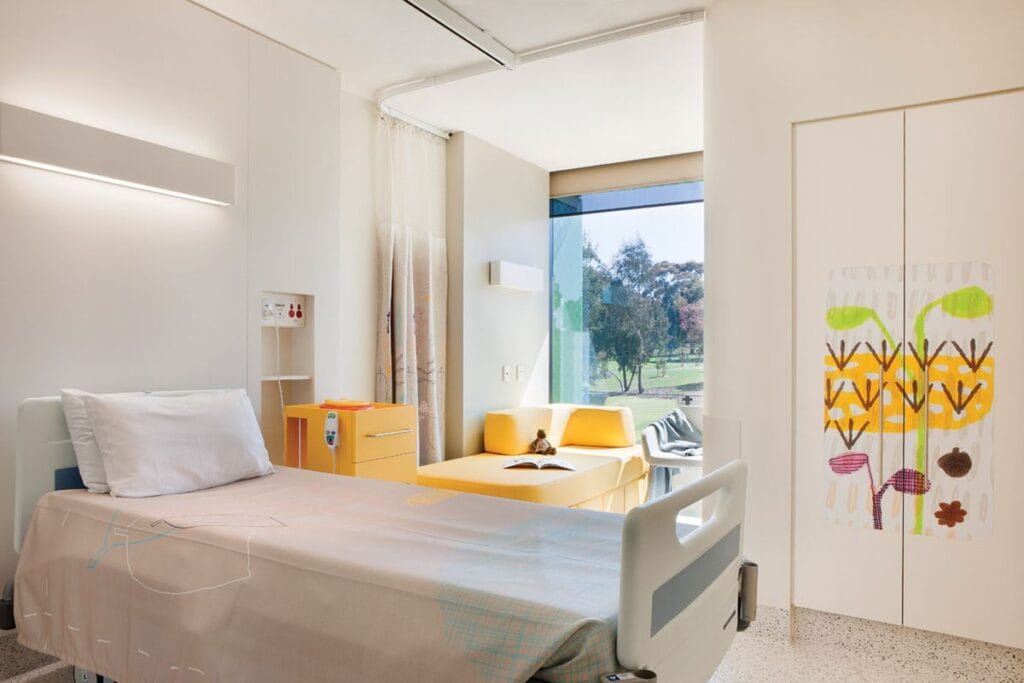 Exterior to interior healthcare lighting
Healthcare lighting begins with the individual's experience outside the structure. For example, roadway lighting requires sufficient illumination (1-2 fc); higher illumination at a hospital's public entry locations necessitates more powerful lights 10 fc (even higher for lighting an emergency room entry; 15 fc). When specifying illuminated bollards at hospital drop-off areas, use impact-rated bollards (international standard IK rating) for safety from approaching vehicles (to the local jurisdiction regulation). The exterior landscape of healthcare buildings should provide safe and inviting spaces for walking or relaxing outdoors (standard 1 fc for egress paths), with brighter levels to encourage circulation. Provide illuminated and colored signage for effective wayfinding to a healthcare center. If façade lighting is e intended for a healthcare building, use creative façade lighting to champion the facility as a symbol within its surrounding urban landscape.
Within the facility, lobby and entrances, waiting areas and publicly accessible service spaces, the atmosphere should be relaxed, comfortable and uplifting. Healthcare lobbies require higher light levels (20 fc) for safe and clear passage. Ten-footcandle light levels and a comfortable 4:1 uniformity ratio are appropriate for waiting areas and service amenity areas. Implementing neutral white color temperatures (3000K-3500K CCT), indirect lighting and focal lighting yields a pleasant environment. Indirect lighting strategies include lighting walls or ceilings using hidden light sources to welcome and guide the visitor through the space. General circulation and amenity spaces benefit from playful decorative lighting and focal lighting that provide visual interest and wayfinding through the healthcare facility.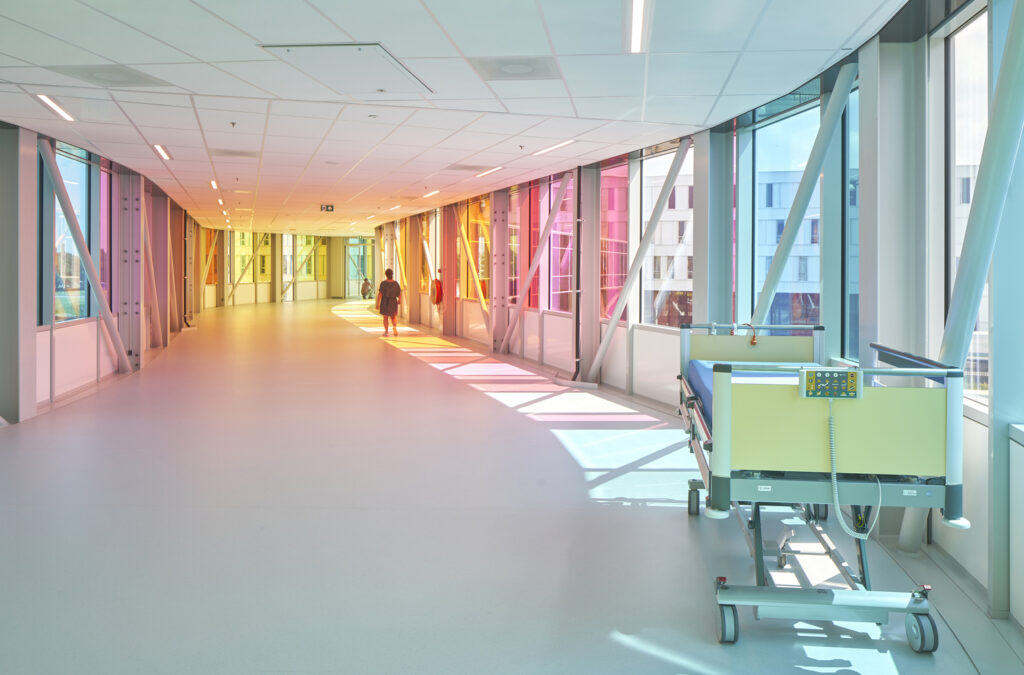 Lighting designated for specialized healthcare program spaces
The patient's experience in a medical center should be comfortable and easy to navigate. Using cooler color temperature lighting sources in patient examination rooms (typically 3500K-4000K) can mark the difference between public and private, i.e., patient areas, providing a bright and attentive psychological state. Glare and abrupt changes to brightness from ceiling lighting create jarring, uncomfortable contrast for patients looking up, as they are transported through hospital corridors on wheelchairs and stretchers. Placing light fixtures toward the side of a corridor, using linear lighting and indirect lighting, mitigates contrast in corridors. Patients can be directed toward nurses' stations (supply 10 fc on the floor; 50 fc at a work surface) by specifying unique, colorful and playful lighting concepts. Patient examination or procedure rooms should provide sufficient light (20 fc minimum), illuminate interior walls and distribute fixtures over task areas without creating unintended shadows. Interior healthcare programs require specific lighting design strategies.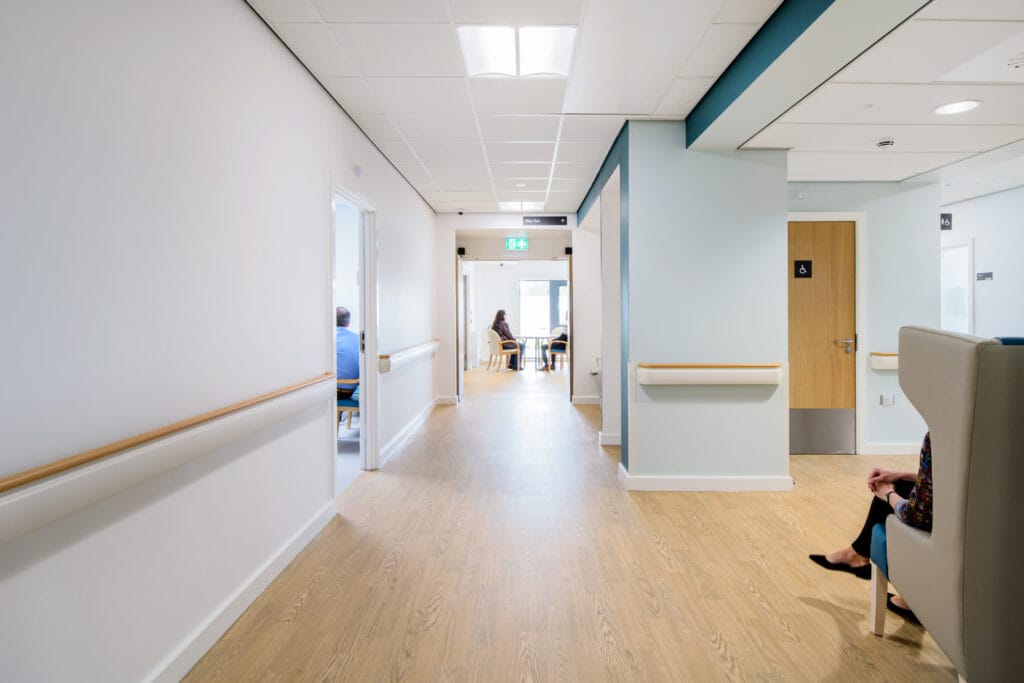 The technical and experiential qualities of specialized healthcare rooms are equally important. Healthcare examination, operating and other procedural rooms should specify cool color temperature (typically 4000K-5000K) and high CRI (90 CRI minimum) light sources for high acuity conditions. Lighting design should reduce the patient's potential stress. Equip patient-centered rooms with one percent to 100 percent dimming controls and, in general-use rooms (such as staff rooms), use 10 percent to 100 percent dimming controls.
Note that CT scan and MRI scan rooms benefit from playful lighting ideas that are colorful, artistic and immersive. This can afford a pleasant distraction for patients (IES RP-29-22, page 38). Procedural or operating room light levels on the floor (20-50 fc), walls, sinks (50 fc) and work planes (50-100+ fc) are crucial for sensitive tasks, which can reduce errors (IES RP-29-22, page 44). Use neutral white (3000K-3500K) in hospital in-patient rooms and high color rendering (90 CRI) for clarity and comfort, while also providing task-appropriate light levels, reading light and motion-sensitive step lighting. Back-of-house spaces in healthcare facilities require technical design specifications; each room type should follow the light levels recommended by the IES. Color tunable lighting should be considered for healthcare programs where patients or staff spend prolonged time. Tunable-white lighting, which relates to daylight shifts from the 2700K-5000K color temperature, enables the patient to control the lighting environment as preferred. 
Unlike most artificial light sources, circadian lighting mimics wavelengths of light that are present throughout the natural daylight cycle. Prolonged disruption of one's experience of this cycle leads to negative biological and psychological effects (IES RP-29-22, page 39). While standard light sources are used in most healthcare spaces, circadian lighting can benefit patients in extended-term recovery or early development (Anjali, Impact of Light…). However, daylight should still be implemented in patient rooms for the most natural method to match healthy cycles. Circadian rhythm light tends to improve mood, comfort, sleep and physical recovery for the individual patient.
Health and safety lighting standards
Architectural lighting in healthcare often requires strict or severe specification, including for compliance with government regulations, for lighting fixtures. In general healthcare areas, cleaning and safety can be a vital priority; therefore, specifying non-glass or shatterproof lensed fixtures with appropriate ingress protection (IP65 or higher) is necessary (IEC, IP Ratings). In behavior health suites, abuse is mitigated by using vandal-resistant and anti-ligature lighting fixtures that cannot be tampered with or used for self-harm. Magnetic resonance imaging (MRI) rooms must be specified with non-ferrous (without iron) lighting fixtures so as to not affect MRI machines, and any room where electromagnetic interference is relevant should be specified to those standards. All cleanrooms in healthcare, such as operating rooms, must follow the required classifications for each grade of cleanroom, which regulates the amount of air particles that can pass through the fixture over a given time. The International Organization for Standardization (ISO), which regulates consumer products and safety, currently designates cleanrooms under the ISO 14644-1 standard (ISO, 2015). Healthcare cleanrooms are typically designated as ISO 5 or cleaner, which is essential for maintaining air cleanliness for certain procedures. Cleanroom-rated fixtures are also necessary for other sterile healthcare programs, such as laboratory storage requiring controlled environments.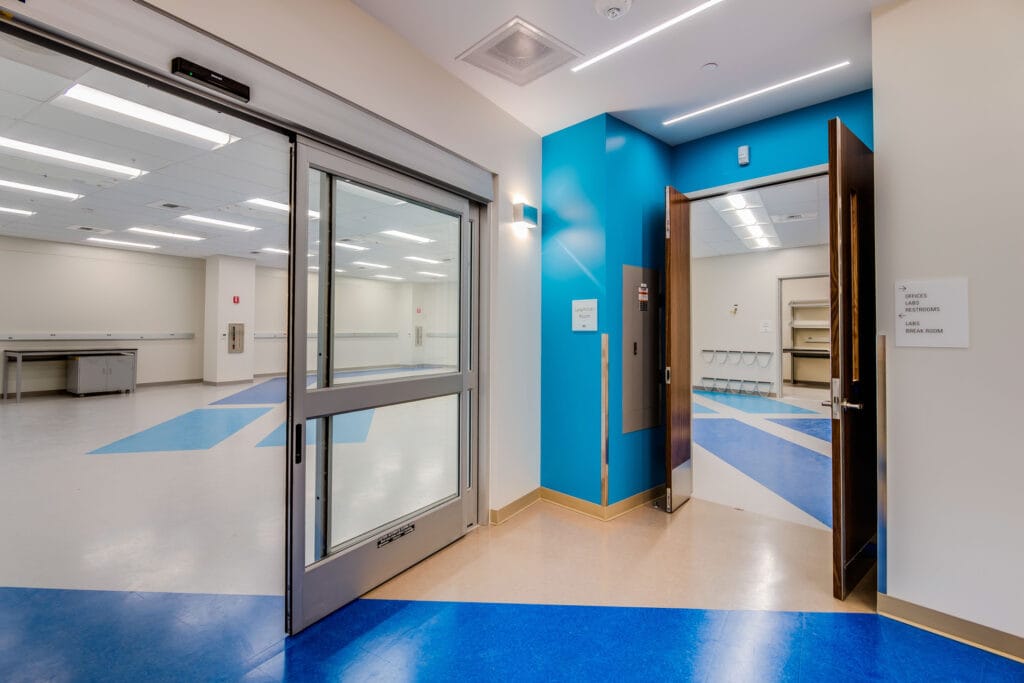 Lighting design is essential throughout the development and maintenance of a healthcare facility. Light levels, color rendering, color temperature, technical specifications and design intent can be integrated into the human-centered approach. Discussing the needs of the practitioner,  patient, client and local community assures a successful healthcare environment for everyone using the space. 
Sources:
Anjali, Joseph. "Impact of Light on Outcomes in Healthcare Settings." Center for Health Design, 2006.
Illuminating Engineering Society. "Recommended Practice: Lighting Hospital and Healthcare Facilities", RP-29-22, IES Healthcare Facilities Lighting Committee, November 3, 2022.
International Electrotechnical Commission. IP Ratings.
International Organization for Standardization. ISO 14644-1:2015, 2015.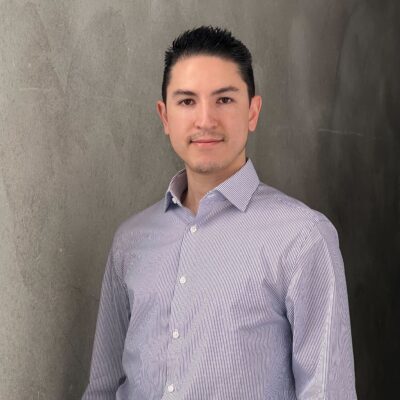 Garrett Rock
Garrett Rock is a lighting designer based in San Francisco, California. He graduated from the University of California, Davis with a degree in architecture and received his Masters in interior architecture from the California College of the Arts. He's worked for Architecture & Light, Banks Landl Lighting Design and WSP.