Published on April 18, 2017
Last updated on October 19, 2021 3:31 pm
Reader Mode
To Dadapt or not Dadapt, that is the question.
When considering high-end lighting design, there are many factors that can influence a decision. It's always best to have an expert on hand when questions arise. That's where Shari Francis, owner of Dadapt, comes in.
Shari began her career in the Big Apple, mostly doing film and writing. After some years, a move to Los Angeles, and a few UCLA extension courses, she fell in love with design. This prompted a return to NYC. With a more impassioned pursuit and an MS from Pratt Institute in Interior Design, Shari laid the groundwork for what would become Dadapt.
It's been 6 years since Shari earned her degree from Pratt.
Question: What made you decide to change careers and how is design an extension of your prior work experience/goals?
"I had been living in LA for a year and working for Variety Magazine when I realized I wasn't happy working in the film and television industry. I took an interior design history course at UCLA and loved it. While I was taking this course, I applied for ULCA's James Northcutt design competition and won. It was at this moment I realized that design was what I wanted to do. I thought, 'This is where my love is, this is where my passion is.' So I spent another year at UCLA learning how to hone in on my design senses [using the scholarship]."
"Design + Adaptation = Dadapt"
The name itself is derived from Scandinavian influence. Established in 2013, Dadapt is the firm reflection of Shari's versatile skillset. It assists clients in commercial, retail and residential features. Shari has substantial knowledge of the housing market, which ensures Dadapt can create exclusive designs through renovation, décor, and new construction for each client's unique taste.
Her exceptional vision has led her to create functional and aesthetically sound spaces such as the work found in Kit's Underground Wine & Spirits project.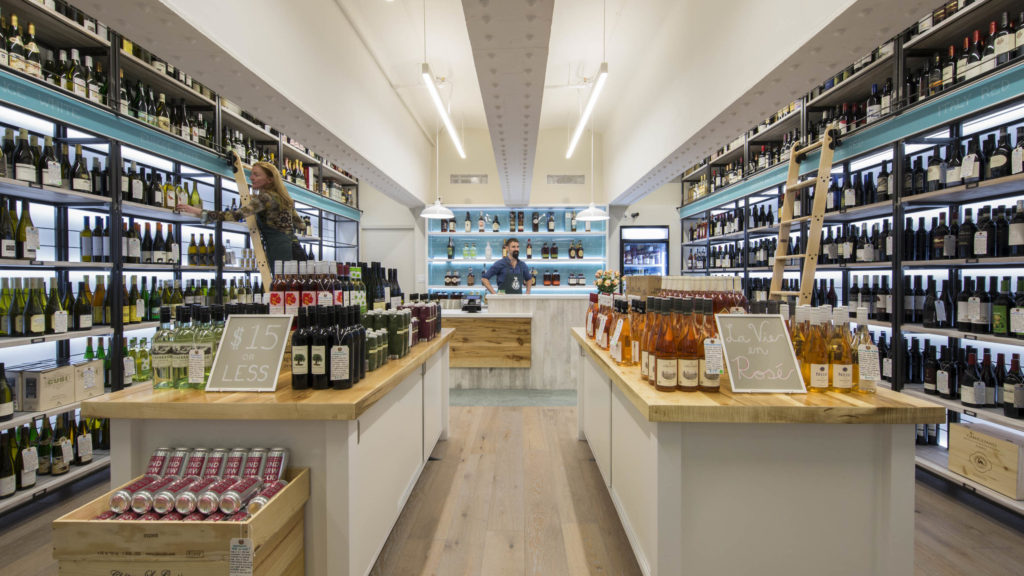 Question: Given your background at the time, how did you land this project?
"Initially, I was referred as a designer to an investor to partake in a restaurant project but they realized I would be better suited to work on Kit's Underground Wine and Spirits retail space," says Francis.
The idea was to create a modern beach-inspired wine store for her client, Kit Pepper. Located in the underground retail-shopping concourse Turnstyle (Columbus Circle, Manhattan), the project site had laid vacant for 10 years.
It was at this point that Shari called upon Johnny Monrose, an architect with underground retail design experience who helped her bring the look together.
"Johnny Monrose was my right-hand man from the very start of this project! Bianca Celestine was our engineer and Armando Rose was our Licensed Architect. This project is special to all of us as this is the first time we worked together as an all-black community of designers, architects, and engineers. We had no idea of our backgrounds as we communicated via telephone and email mostly. When we met face to face we were in awe and by the end of the project, you could definitely feel the sense of pride that we, a minority group, accomplished this design together for the public to experience. I think this is pretty awesome!"
For Kit's Underground, Dadapt needed both up and down lighting in order to illuminate the ceiling and retail space. Shari also wanted to ensure there was accent lighting for wine bottles. LED flexible tape lighting was hidden behind steel and wood wine shelves.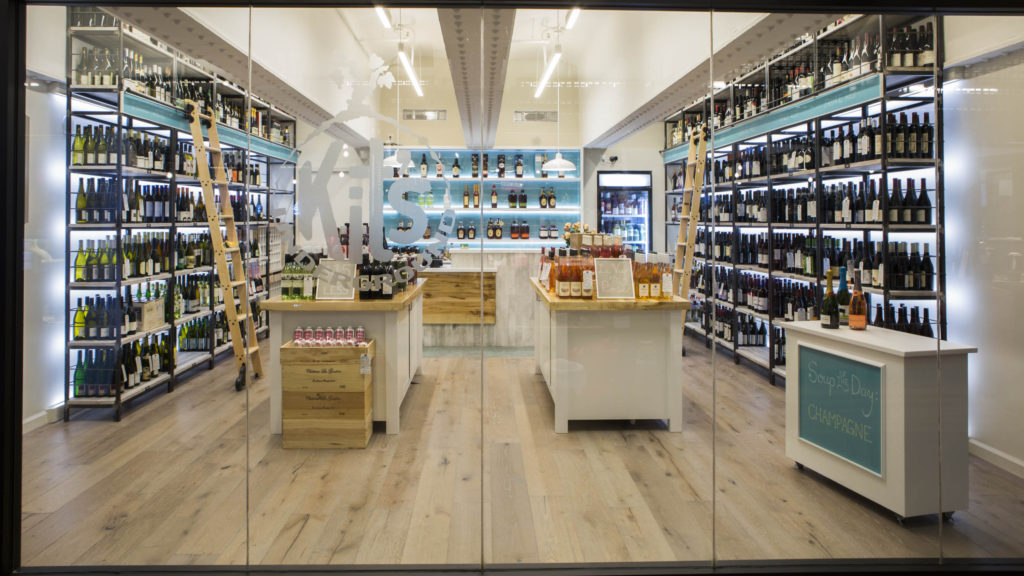 They couldn't change vaults whatsoever. They also were forbidden from touching the ceiling. Initially, they were aiming for an industrial look but then realized simplicity was the standard. The scale of lighting that they ended up choosing was another favorite from Alcon lighting, a One-light industrial style warehouse cord-hung pendant with spun metal shade and a glossy white inside shade for reflectivity.
We wanted a deeper understanding of how exactly Shari thought to pull something like this off, so we asked her.
Question: Can you describe your process?
"When I meet with a client sometimes they'll have an idea of how they want their space to look like. But it is my job to assist them in envisioning themselves living or working in space… and bringing that to life.' The result sometimes exposes their personality rather than a set style. Design is a lot about the psychology of the person."
Francis sees her job as threefold: helping people understand the function, aesthetics, and lastly, their personality in the space. Asking the right questions is crucial for understanding the personality of the client and how people move through a space. What colors do they like? What materials are they attracted to?
In the end, when working with a client and their personality, there are many steps for approval. These different phases are crucial to Shari's process because her clients are so involved in the overall design.
Question: What's up next for you?
At present Shari is working with a restaurant on the Upper East Side.
She gleamed with excitement when describing her newest venture, "This is the first restaurant Dadapt will be designing. We are currently collaborating with an architect and the client very closely."
For all things design and Dadapt, stay tuned for Shari's next big project!