Published on May 7, 2020
Last updated on October 19, 2021 2:08 pm
What does the individual need and want to produce quality work? Enough desk space to spread elbows to type, write and create? A power outlet and natural light? Ample lighting? Privacy?
Pre-pandemic workspace planning and design included sharing surfaces in communal or compartmentalized space in which to think, collaborate and work. If anything, as the architect of a new co-working space in Austin, Texas, recently learned, post-pandemic workspace may also need to account for demand among humans who prefer to work in social environments.
This means more shared office or co-working spaces, a membership-based business model providing access to the Internet, electrical power, a printer, communal work table and/or private offices, depending on the size and budget of an enterprise.
The Commune, a compact work and collaborative space in Texas designed to meet creative demand, features all of this in various details and accents, such as custom steel windows and doors. From cast-in-place concrete surfaces to the wooden slat wall, the architecture is intended to evoke a craftsman's ethos.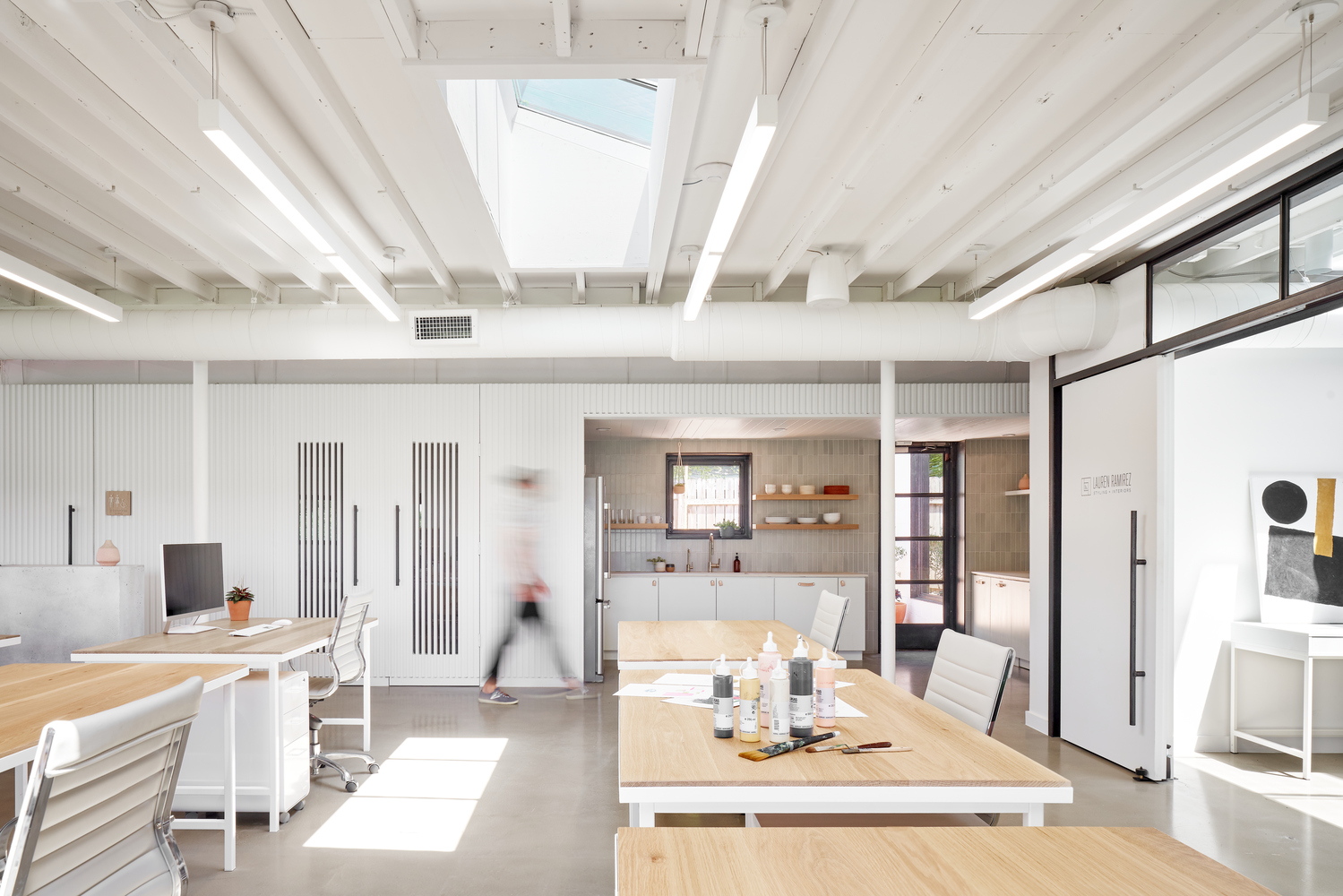 "We wanted to create the feeling that the building itself is handmade," explained architect Nicholas Hunt during a recent interview. "It's located in a quirky part of Austin. We wanted to be respectful of the quirkiness of the neighborhood."
Re-purposing what had once been a locksmith shop, Hunt remade the building with respect for its existing ceiling structure, retaining concrete block walls and exposing ducts.
"Giving the client a range of work spaces was the key," Hunt, partner and president of Texas-based Hunt Architecture, said, adding that regulations prohibited enlarging the building. "We wanted to create space to share and mingle."
Keeping the exposed wood structure while using Alcon Lighting's commercial-grade LED office lighting, Hunt sought to fit trusses with long, thin linear pendants, also known as linear suspension lighting.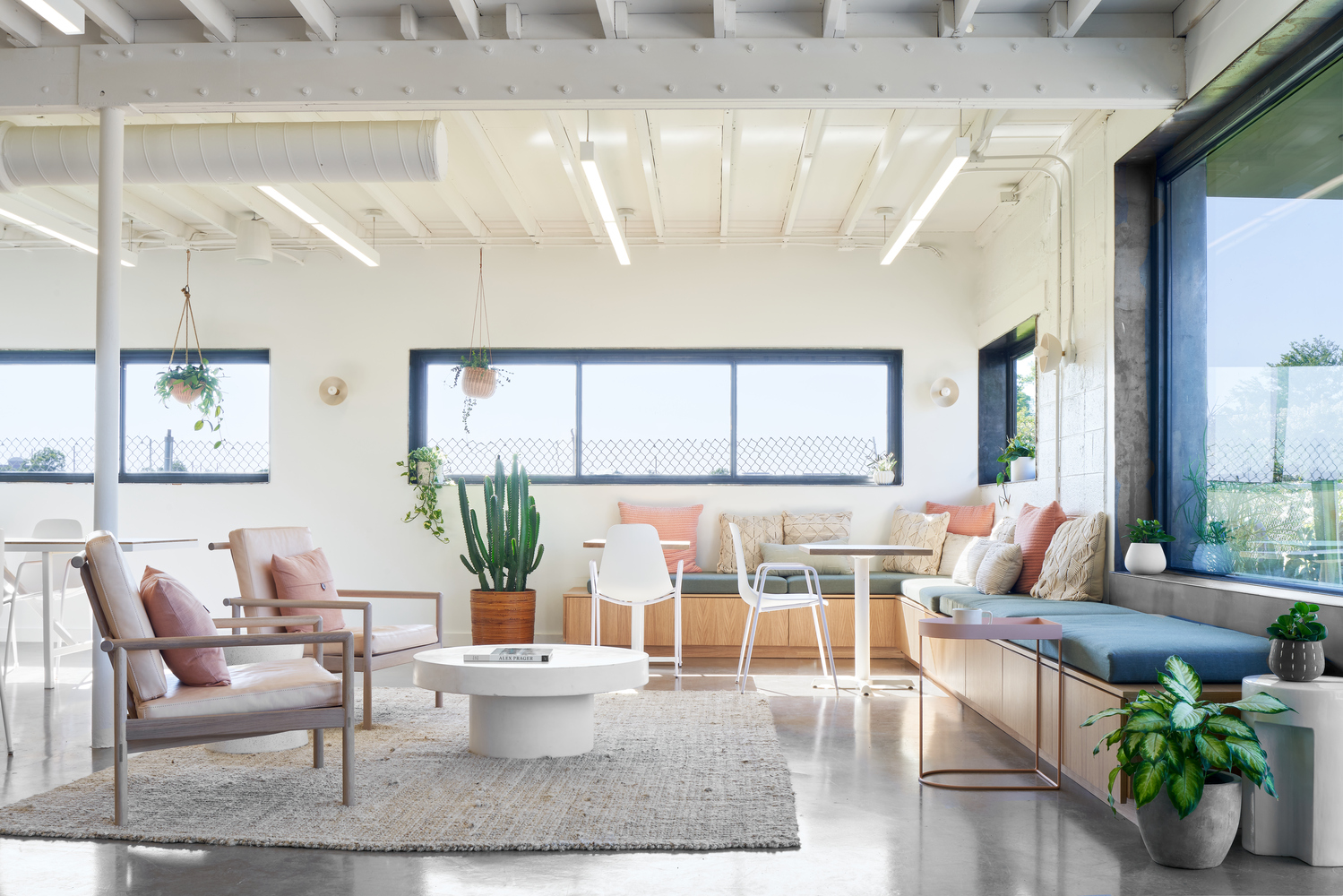 "The proportion was perfect," Hunt observed. "It's not overly attached, so the hangers don't draw attention."
The Commune's owner, herself an artist who paints and does graphic design, is impressed with Hunt's results.
"Users get their own private space but they also get a sense of community—the space has open and dedicated desk spaces," Hunt explained, noting that the Commune's most popular shared spaces include the kitchenette, materials library, print center and a conference room. The private phone booths are also popular.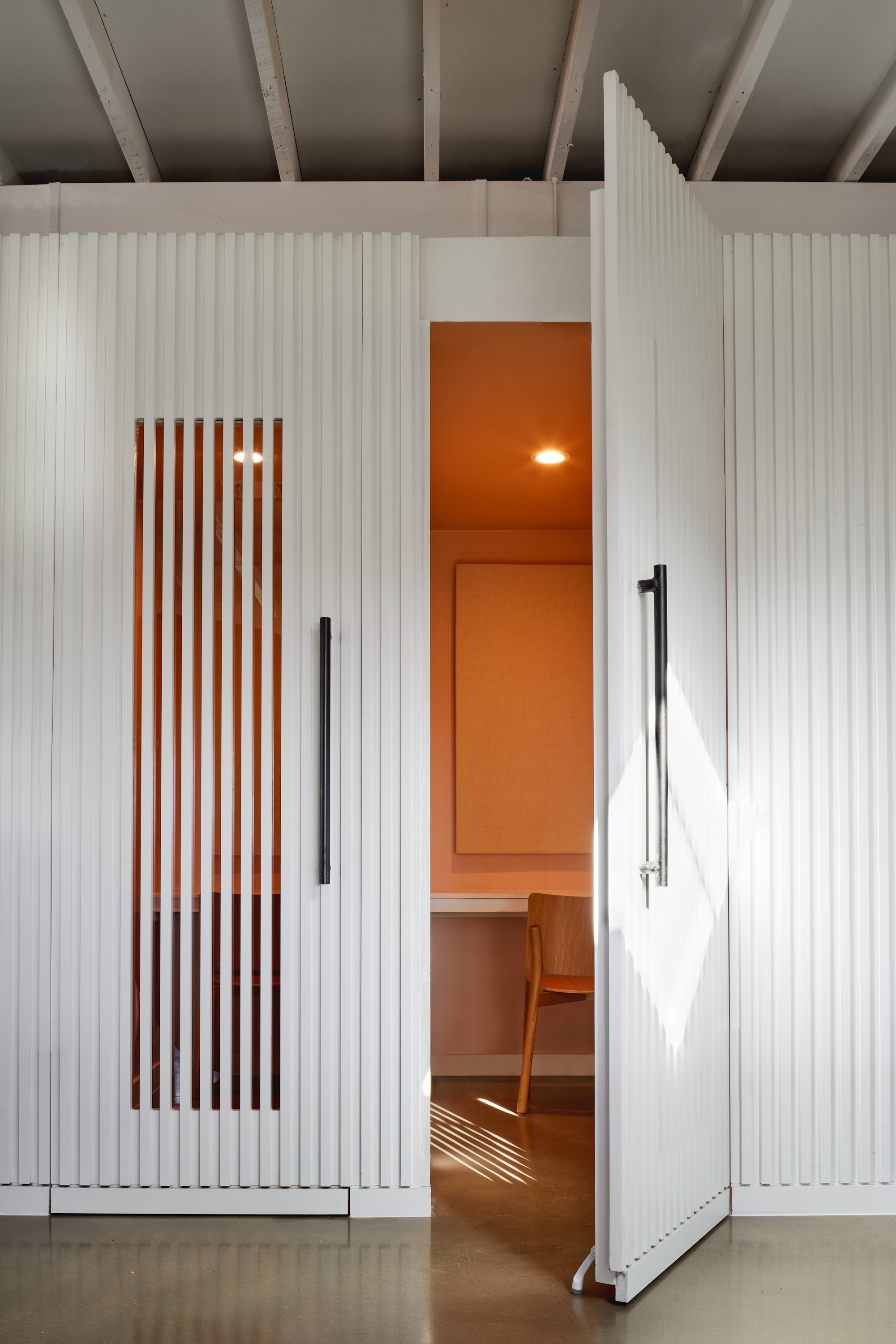 The Commune's owner tells Hunt that her business is particularly popular with the individual, sole proprietor and small business—an interior designer, a jeweler, a small architectural company and an advertising firm. Another customer is a ceramicist.
Space in the co-working or shared office market is also being used for accounting and tech ventures and freelance writing. Office sharing is generally membership-based. The property owner sublets space to those paying a fee for space and services.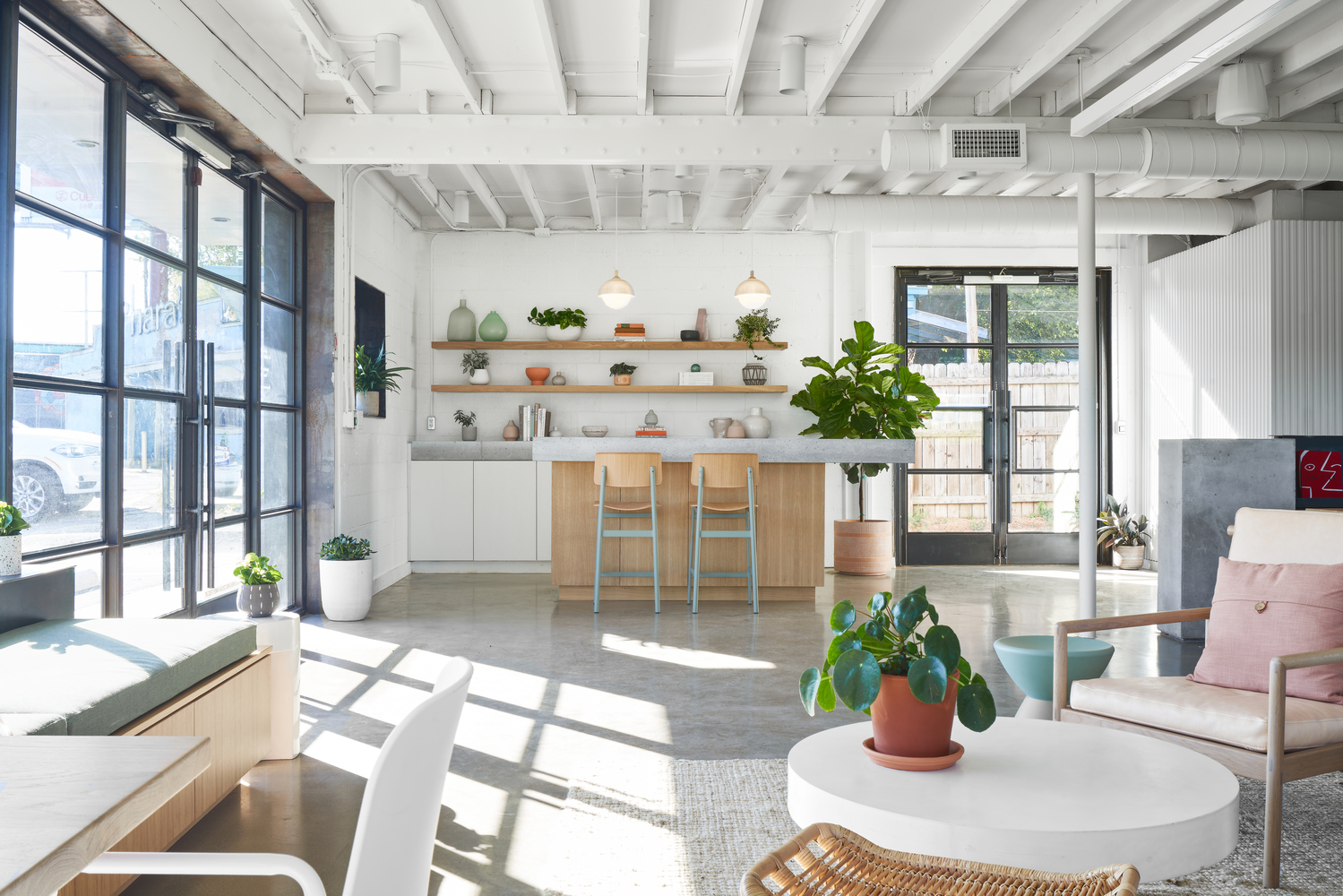 From using a meeting room, kitchen or lounge to working at a private desk or in private space, there may be a range of single, annual or monthly choices in pricing plans. Benefits may include professional networking, better integration of work into one's private life and an increase in productivity.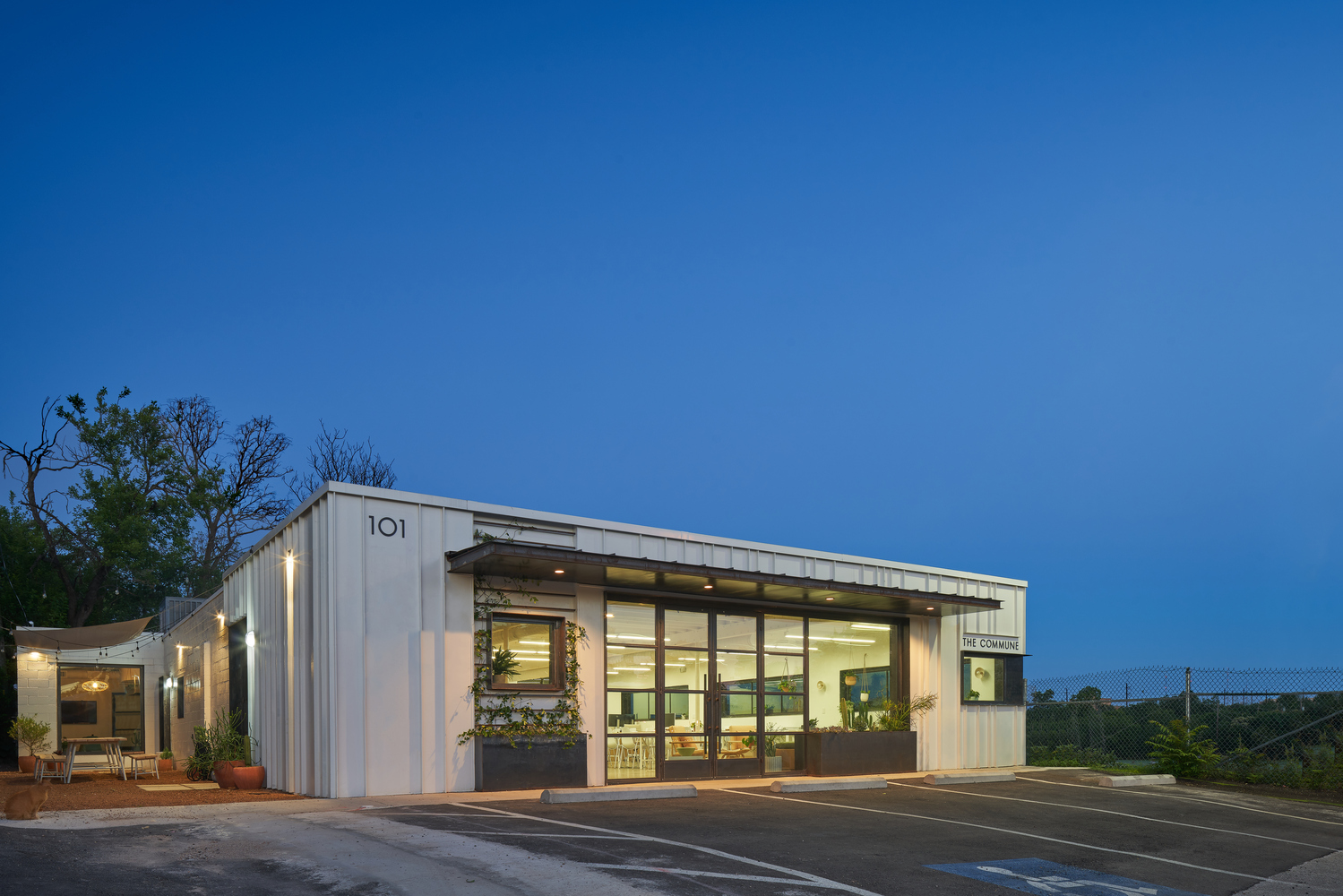 Coming into the Commune in Austin, Texas, the user sees a seating area and daily drop-in desks upon entry, with rentable private desks in the building's middle and private studio space in the back. Private phone space, conference room, library and kitchenette flank the co-working space. Large skylights and clerestory windows flood spaces with natural light.
"One thing that's surprising is that holding events is more popular than anticipated," Hunt said. He's heard that recent customers booked alumni reunions and cocktail receptions. "The natural and artificial light are popular. The owner's told us that people are raving," he said. "We've been informed that there's a waiting list."