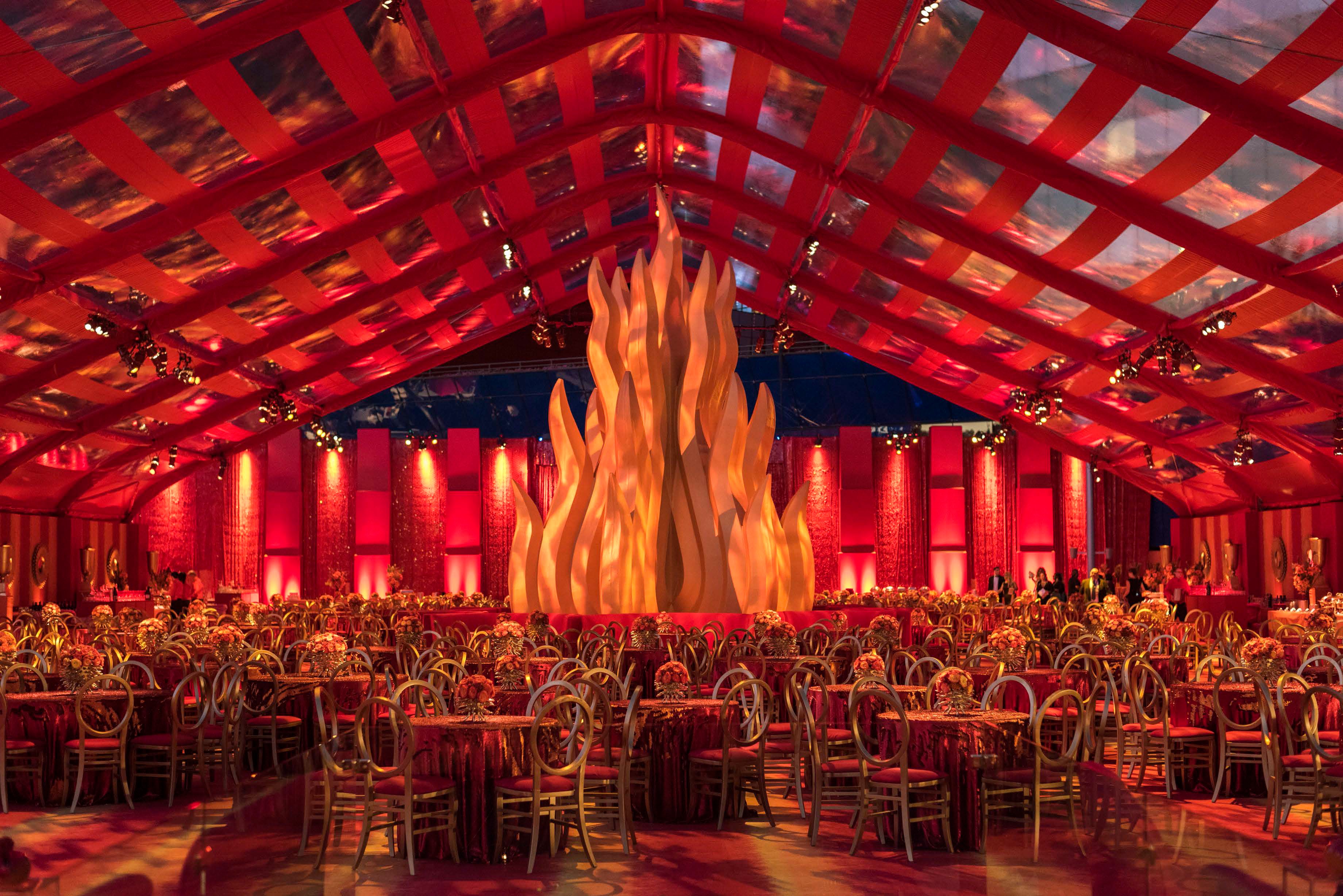 I caught up with event lighting designer Raymond Thompson of Images by Lighting the week before the Oscars and right smack dab in the middle of awards season. Thompson, whose credits read like a highlight reel of Hollywood's most star-studded events, was at Raleigh Studios prepping for the Motion Picture & Television Fund's annual Night Before the Oscars gala.
We talked about how he got into lighting design (by accident), some of his biggest projects to date, his design aesthetic, being client-focused, and more.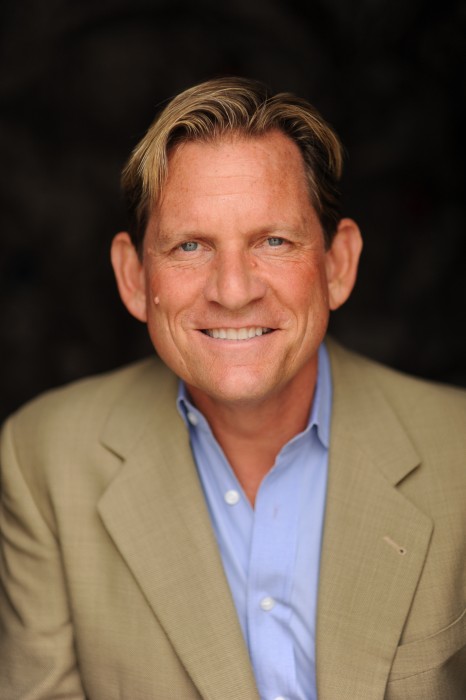 He got his start doing lighting for his own apartment, then for a friend with influential connections in the entertainment industry. Soon, a producer asked him to do the lighting for a movie premiere—his first gig as an event lighting designer.  As Thompson puts:  "I went to the theatrical lighting store with a jeep and a ladder." That was back in the early 1980s.
The rest is history.
How did your career evolve?
I had the opportunity to go to Korea in the late 80s to do the Korean Olympics. I've since been to Paris for the World Cup. I've done king's weddings in Dubai and Qatar—I travel the world on projects.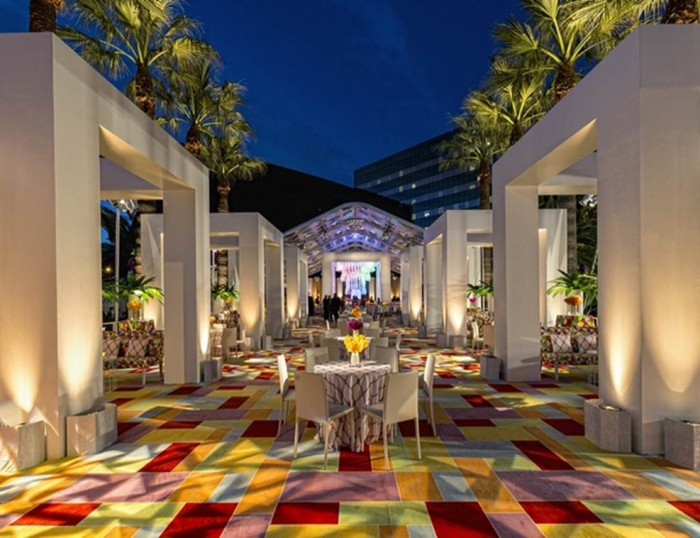 I'm going to Bangkok next month to do a wedding in parliament. We do a lot of award show spin-off parties, for everything from the Oscars, the Emmys, the SAG awards, and the Grammys.
How would you describe your aesthetic?
Yes, of course. I'm quite known for my aesthetic [deadpan]. I've gotta tell you: Whatever is appropriate for the event. Because it's not only [about] my aesthetic. If I'm given direction by an artistic director or a producer to create something, I will create it.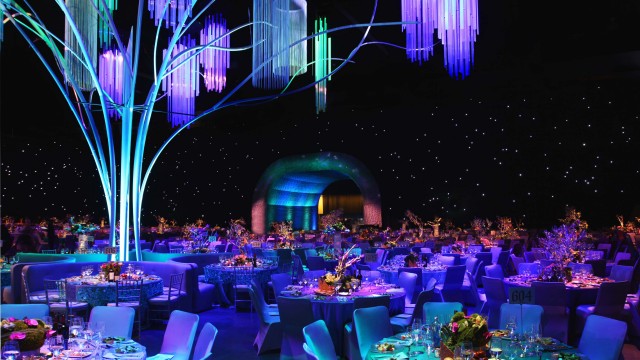 Typically my work is always very clean. I'm not big on seeing fixtures. I love hiding stuff, so our aesthetic is clean, no wires, and fixtures that match or blend in seamlessly as it fits in the architecture.
If it's a white scenario, all the fixtures will be white. When we do HBO and the tint is red, we paint red fixtures.
We do a lot of incorporation of lighting within set pieces and decor elements—especially now with the advent of LED lighting.
One of my projects right now is the green room on stage at the Oscars—I was just there yesterday. I've done it for the last 13 years. This year's set was completely embedded with LED tape—everything from ceiling pieces that shone up onto fabrics, to shelf pieces, to light boxes that glowed.
And we controlled every channel of that to set levels of lighting in the room. I worked with a company out of Switzerland who actually designed the room—Rolex sponsored it this year.
Even in that kind of situation, you saw no lights. The LED tape was hidden everywhere. The only lights you saw were on purpose: practicals, lamps that were in the room. Everything else was built in.
So as far as my aesthetic: It looks like you're in somebody's home, you feel comfortable, you have good coloration on your face and the environment is true to color.
How has LED lighting evolved more recently?
We use a lot of LED now. Number one, it saves us on energy, on distribution, time of installation—not to mention the heat factor. I can now get these lights very close to talent on stage and even to ice carvings, because they don't put out heat.
We use a lot of LED now within fixtures in our set. They do such a great red or blue. Tungsten or incandescent pales in comparison, because tungsten tends toward yellow. When you're trying to get a blue out of a yellow, it's difficult and not near as true blue or deep blue as the LED blue. The color rendering is much better with LED.
What do you see as the future of lighting?
[For theatrical or event lighting], tungsten will be phased out and LED will replace tungsten, basically. Eventually it will all be LED—which we would love. We love LED for the power, the [lack of] heat, the color rendering, etc. That's what I see.
In my industry, they work for every application, from press lighting, to gobo projections, to all the intelligent fixtures.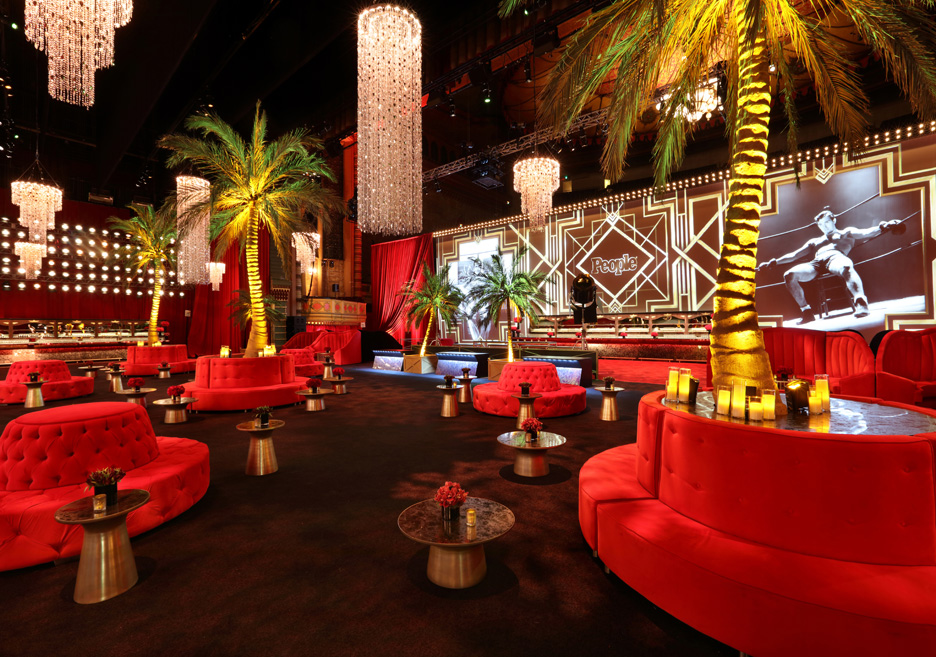 To date the majority of intelligent fixtures have all been tungsten (which is ten years ago) and now a lot of them are moving towards LED.
Do you have any advice for someone who's thinking about going into lighting design?
You should go intern. We've had a number of interns come through our business. And I say intern, just to see if you even like it.
This gal came through—she was from Arkansas—she had graduated in hospitality and wasn't sure which aspect of the business she wanted to go into.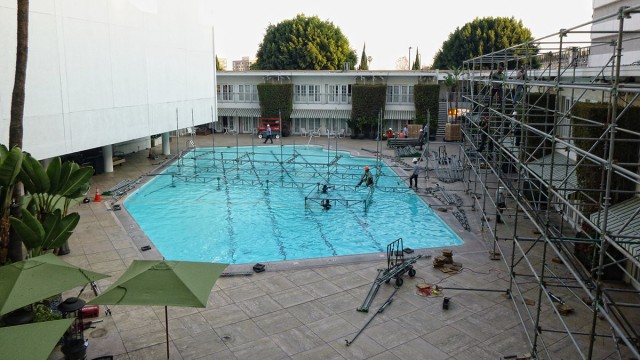 So she came out and interned with an event producer, a florist, a lighting company—which was us—and she stayed with us three months. And over the course of three months she got to know about lighting, and flowers and event production.
She ended up being a producer, because she liked it all. So she went back to Arkansas and set up her business and she's doing quite well.
So I say: intern. Get out and talk to people like us. I've got somebody that I mentor and I'm doing lunch with him this week because he's going through growing pains. Get a mentor. Intern.
What personal qualities do you think that a lighting designer should have to work in the industry?
Generally, you should have a good aesthetic. You end up recommending things to your producer, because your producer might have direction for you, but a lot of producers don't.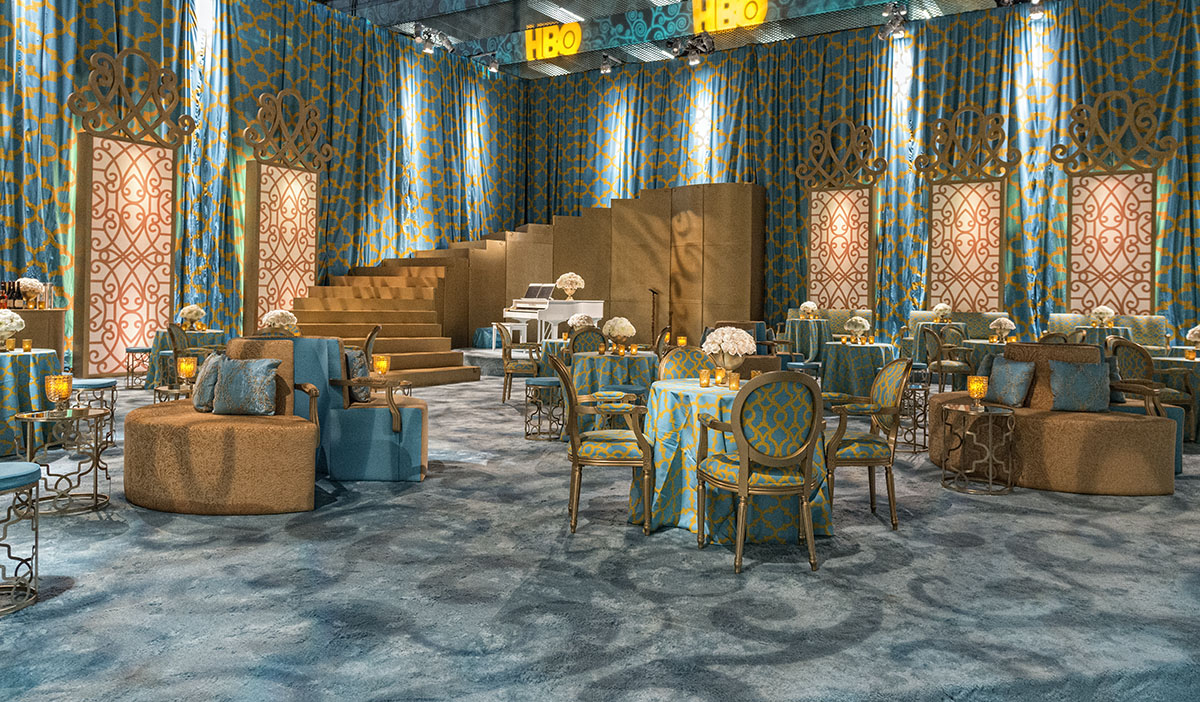 I don't think that's a learned thing—I don't know, how do you get a good aesthetic?
But also you should have a sensitivity to working as a team. You are not the team; you are part of the team. You have to be open to discussion and be able to take direction well. Also too, just be knowledgable about the products and what they can do, so that you know what you promise your client and what you can actually produce.
How do you operate when you're part of a team and you disagree with the direction a project is going in—how do you handle that?
I give my client exactly what they want. And I will tell them: "I'm not real keen on lighting all your guests in green, but if you want me to light them in green, we will do it. And granted, I have done that because that particular producer is more interested in photographs than in the guest experience. But he pays me and I want to be called back.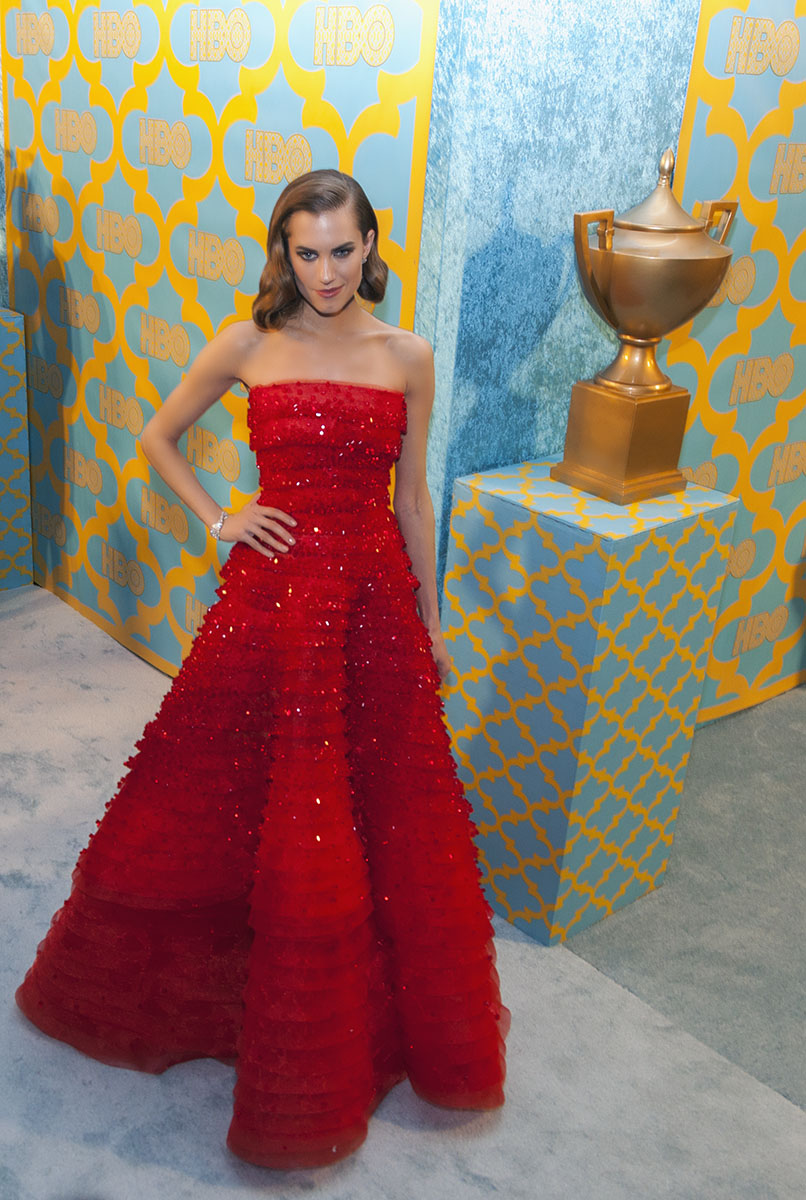 So the bottom line is—you can say, "If it were me, I would do it this way. But if this is what you want—great, no problem."
I am always about the client.
You can find Thompson at his Facebook, Twitter, and Instagram.
Comments