Cree OSQ Series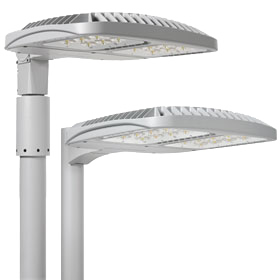 Advancing Lighting through your Site
The Cree LED OSQ Series blends extreme optical control, advanced thermal management and light quality to bring you the latest advancements in LED technology. The Cree OSQ is equipped with a clean, modern housing and versatile mounting options all with an attractive price point. Whether you have a new construction or upgrade application, the OSQ Series is perfect for parking lots, internal roadways, walkways and general site lighting. The Cree OSQ is cULus Listed and suitable for wet locations and comes with an unrivaled 10 Year Warranty. Browse products below.
There are no products matching the selection.
Have questions about a specific product?
Call Us
Local: (310) 733-1248
Toll-Free: (877) 733-5236
Improve the overall look of your site with the OSQ™ LED luminaire. The slim, low profile design adds architectural appeal to any general area lighting space – walkways, internal roadways, parking lots or even flood lighting applications. Further, improve your site's illumination performance with our precise optical control that delivers light only to where you need it – resulting in greater energy savings.